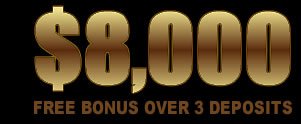 Welcome Bonus
Grand Parker Video Poker Game Selection
In recent years, video poker has been increasing in popularity, but many people are still not clear on the distinction between traditional poker and its video version. In short, video poker is a somewhat simplified version of regular poker, since you are only playing against the computer. Therefore, you do not need to recognize other players' tells, or try to mask your own, and you can play at your own pace. Moreover, you can only lose as much as you bet--you'll never go into more debt with video poker.
Origins
While some people think that video poker is a game unique to online casinos, this is not necessarily the case. In fact, video poker dates all the way back to the 19th century, when the first mechanical poker machines were created. In the 1970s, arcade style poker machines were set up in bars and land casinos and slowly increased in popularity, distinguishing themselves from traditional table poker games. Today, of course, the Grand Parker video poker games are much more sophisticated than their predecessors.
Video Poker Variations
There are actually a number of different kinds of video poker games available to players at Grand Parker Casino. Generally, it is recommended that those new to the game opt for the "Jacks or Better" edition, as this is perceived to be the easiest to understand. Deuces Wild and Jokers Wild are a bit more complicated, and it is somewhat more difficult to obtain the hands necessary to win the game. The payouts, however, make the extra time and effort worth it.
Free Play Mode
Those who have never played video poker before may want to try a free preview version of the game. Grand Parker Casino offers new members the option of testing out any of their poker games free of charge, so they can get a sense of the game's structure and function before they place a wager. To access this preview mode, simply click on the corresponding links on the homepage, and you can start playing.