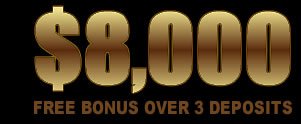 Welcome Bonus
Come on, hop to big offers and a great raffle at Grand Parker Casino this week
Mon. Apr. 14, 2014
Grand Parker has some very nice Easter special offers that are available until April 17th. Why wait for the Easter Bunny to give you prizes when you can jump on them yourself. Yeah, take the middleman, or bunny in this case, out of the equation.
You can get a whopping 400% back on any deposit, as all you have to do it load your account and use the bonus code of EASTER400. Also,, if you make a 2nd daily deposit you can get 100% cash back. Money is there for the taking so jump to it!
The biggest promotion of the year is being held this week - the 30K Easter Raffle. This raffle is very easy, as for each deposit of multiples of $50 you will get a raffle ticket. For example, if you make a deposit for $150 into your account you will get 3 raffle tickets. The more tickets you have the better of a chance you have to win. Maybe the prizes for the raffle should be mentioned, as they are impressive to say the least. First prize will receive $15,000, 2nd prize receives $10,000, and 3rd prize receives $5,000. What is cool is that you will not only get cash back for your deposits, but also tickets for the raffle where you can win up to 15 large!
The Easter Specials at Grand Parker Casino are available until April 20th 11:59pm EST. The cash back given for the weekly offers are for free chips and do not miss out on the raffle, which is open until Thursday April 17th at 11:59 pm EST. The winners for the raffle will be notified on Friday April 18th and good luck!