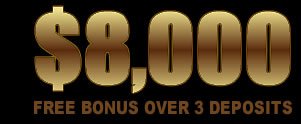 Welcome Bonus
Aladdin's Wishes Free Spins and Big Thanksgiving Bonuses
Sun. Nov. 17, 2013
The holiday season is right ahead of us, and Grand Parker Casino is giving you a chance to celebrate early with a great set of bonuses and other promotions. To kick things off, check out the THANKS280 promotional code. You can use this code twice each day to get a 280 percent slots bonus on top of 10 free spins for the Aladdin's Wishes game. All you have to do to qualify for this offer is make your deposit a minimum of $100. This is a hot pre-Thanksgiving deal that combines an awesome bonus with a free chance to win some cash prizes.
If you use the THANKS280 code twice in the same day, then you can get a 100 percent cashback reward. Send off an email to the Grand Parker Casino support team to have your reward added to your account. For people who want to play table games instead, you can use the GIVING1 code to get 125 percent when you deposit a minimum of $21. Put up $100 or more to get 161 percent with the GIVING2 promo code, or put in the GIVING3 promotional code to get 202 percent with deposits of $200 or higher.
A number of other slots options are also available. Put up $21 or more to get 191 percent with the THANKS1 bonus code, or kick it up a notch with a deposit of $100 or higher to get 249 percent when you use the THANK2 code. The THANKS3 promotional code is good for a 301 percent reload when you deposit a minimum of $200, or you can deposit at least $300 with THANKS4 to get 329 percent. The largest offer available this week is for 351 percent when you deposit $500 or more with the THANKS5 code.
Thanksgiving is one of the major holidays in North America, and Grand Parker Casino wants people from this part of the world to know how much they want to help them celebrate. These offers are a great way to get your bankroll in shape for the holiday season since it's the time of year that people tend to play the most. All of the time home spending evenings with family and friends means that you'll find yourself passing the time with your favorite casino games a little more often, and that's why they're giving you such great deals for this time of year.