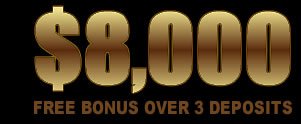 Welcome Bonus
Amazing Bonuses and Free Spins Ready This Weekend
Fri. Oct. 11, 2013
October is officially in full swing, and this means that we're winding down to the holiday season. Grand Parker Casino is taking advantage of the increased volume of players that naturally come with this time of year by giving players some pretty incredible opportunities to boost their bankrolls. For example, there is a featured bonus code this weekend that will get you a 275 percent slots bonus and 15 free spins for Aladdin's Wishes. All you have to do to get this offer is deposit a minimum of $100 with the AMAZING promotional code. You can also get a 100 percent cashback offer on your third deposit of any calendar day all week.
There aren't any featured codes this week for table games players, but there are still three great offers for you to choose from if you prefer these games. Low stakes players will really appreciate the JACKS1 promotional code since it will get you a 125 percent match bonus no matter how much you deposit as long as you meet the minimum deposit requirement of Grand Parker Casino which is $21. Make your deposit $100 and up, and you'll be given a larger 161 percent offer when you use the JACKS2 code instead. The JACKS3 code is for people who want to drop a serious chunk of change since you can get 202 percent on deposits of $200 and up with this offer.
Slots players also have some great offers to choose from. Put up $21 or more with the MAZE1 code, and you'll get a 191 percent reload bonus. The MAZE3 code is good for 301 percent when you deposit a minimum of $200, or you can make it $300 and up to pick up a 329 percent offer with the MAZE4 code. The MAZE5 code is the high roller slots code for this weekend and on into next week. With this offer, you'll get a massive 351 percent match whenever you deposit $500 and up.
These specials all expire on October 18. However, you'll be able to redeem any of these offer 30 times during the promotional period except for the AMAZING code which can only be used twice daily. The cashback reward is worth up to a maximum of $500, and it can be played with slots or table games. Grand Parker Casino is giving you a lot of hot offers this week, so make sure that you cash in.