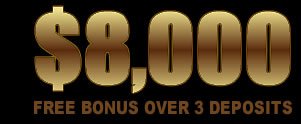 Welcome Bonus
No Need To Go It Alone - Join The Revenue Jet Affiliate Program!
Wed. Jun. 03, 2015
With four Professional Brands along with the opportunity to share in up to 45% of revenues all tracked in real time, it's time to embrace the Revenue Jet Affiliate program.
Expertise is what makes an operation tick and when it comes to being involved in the online gaming industry why would one want to settle for any ordinary affiliate program, when one can soar to great heights with Revenue Jet?
The company works tirelessly to ensure the individual client's traffic is converted into profits and their comprehensive affiliate program is hand tailored, geared for affiliate success.
Upon joining, the client gains access to the most respected gaming sites in the industry, and the brands all offer a superlative conversion rate as nothing less will do! Affiliate commissions are always paid on time, and there's a number of various options, to select a payment method of choice.
There is a library of marketing resources that is virtually endless to ensure all the right links and banners are in place to drive the client's traffic, and custom marketing materials are on tap to take the campaigns to dizzy new heights.
The running of a successful campaign is a science, and with their bespoke state-of-the-art tracking and reporting systems, all the client's statistics can be measured and gauged, so all campaigns can be accurately assessed.
Dedicated personal attention and working hand in hand to ensure all ones goals are met, is a priority at Revenue Jet. By having a clear picture of the client's vision and having all the right tools at ones disposal, one can be assured everything is already in place to achieve success, like countless of others have already done.
Check out the FAQ section of the website and take the first step, towards a lucrative partnership that's Win Win every step of the way. Getting a feeling for what lies ahead, just around the corner? Ready for some real fun and excitement? Let's get started today, it's time to take it all the way, jump aboard the Revenue Jet, now!