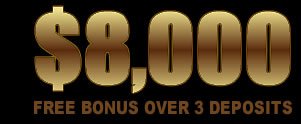 Welcome Bonus
Crash the New Years Party With Hot Jan 2015 Offers
Sun. Jan. 04, 2015
With 2015 officially here and in full swing, players of all types are looking to figure out how they can maximize their chances of having a winning year. Grand Parker Casino wants to make your choice as simple as possible, so they have deals for every type of player at every type of stakes no matter if you're new to the game or not. This is a great example of the incredibly inclusive mentality and approach to promotions that is going to be one of the reasons why this site is so successful in the new year.
If you're a new player, then you'll be able to use the GETSTARTED promo code to pick up 375 percent for playing slots as long as you deposit a minimum of $100. A minimum of $100 is also required for the GETWINNING table games offer which gives you 175 percent extra added on. If that wasn't enough, already established players also have two great options. Deposit with 250WEEKEND each weekend for 250 percent on slots, or make it 150 percent for table games with 150WEEKEND.
These deals are going to last all of January 2015. The WEEKEND promotional codes have to be used on Saturday or Sunday only, but they can be used as many times as you want worth up to $2,000 each. The wagering requirements are 30 times the bonus and deposit on all of these deals, but they're 120x for the table games offer if you're playing video poker or blackjack, so just be mindful of that difference if you play those games.
With Grand Parker Casino, their high-class theme and format matches their high-level promotions. They are all about splitting up their deals in a way that will allow all players to get some major value, and you can really see that as we transition into 2015. No matter which type of game from their collection of over 120 you want to play, you'll be able to add some depth to your bankroll and get ready to go out and nail some big wins. Take advantage of these offers and push towards having an awesome year overall.