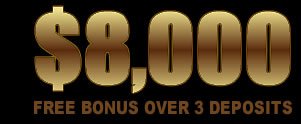 Welcome Bonus
Cash In With Amazing Deals and Cash Out Big Winnings
Sat. Feb. 22, 2014
There are some really AMAZING deals available at Grand Parker Casino this weekend. It all starts with the AMAZING bonus coupon code which will give you 275 percent for playing slots on top of a set of 15 free spins for the Aladdin's Wishes game. All you have to do to qualify for this AMAZING offer is deposit a minimum of $100. This code can be used twice each day during the promotional period. On top of that, you can get 100 percent cashback on your third deposit of the day. Email support to claim this cashback reward.
With the last weekend of February ahead, it's getting close to time for spring to roll back around again. If you're a table games player, then Grand Parker has three solid promotional codes for you to choose from to help you get your bankroll ready for spring. Deposit $21 or more with the JACKS1 promo code for a 125 percent deal that's great for players on a budget. If you deposit a minimum of $100 with JACKS2, then you'll get a 161 percent reload instead. A large 202 percent bonus can be yours if you use the JACKS3 code as long as you deposit at least $200.
Slots players are also getting some good chances to beef things up before the new season gets here. Deposits of $21 or more will earn 191 percent with the MAZE1 code, you can use MAZE2 for a 249 percent deal when you deposit at least $100. Deposits of $200 and up can earn a 301 percent reload with MAZE3, or you can deposit $300 or more with the MAZE4 promotional code for a 329 percent match. A larger offer of 351 percent is for players who deposit a minimum of $500 with the MAZE5 coupon code.
The AMAZING code can be used twice daily, btu the MAZE and JACKS codes can be used up to 30 times each during the promotional period. These codes are all available through the end of February, so you'll need to cash in before March arrives. The cashback reward is worth a maximum of $500 if you're playing table games or slots, but it's only worth up to $100 if you're playing roulette. Overall, these deals cover a wide range of games to give all players a shot at finishing February on a strong note.