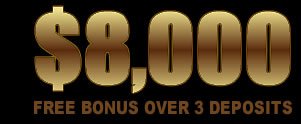 Welcome Bonus
Celebrate the New Year With a New Game and Special Offers
Sun. Dec. 29, 2013
With 2013 in the books and 2014 upon us, you're going to be looking for a way to get your bankroll in good shape to try to take down some big jackpots in the upcoming year. Grand Parker Casino has a group of really incredible promotions that are going to help you do just that, but they're also celebrating the release of the Orc Vs. Elf video slot which is also Realtime Gaming's first 3D slot. Play this game and other slots with the five hot codes listed next.
Low stakes players are getting a good deal with the NEWSLOTS1 promotional code since it allows them to make deposits as low as $21 and still get a nice 191 percent reload. If you want to put up at least $100, however, then you can do so and be rewarded with a larger 249 percent deal with the NEWSLOTS2 code. The NEWSLOTS3 promo code gets you 306 percent with the NEWSLOTS3 code when you deposit a minimum of $200, or you can put up $350 or more to get a 323 percent reload with the NEWSLOTS4 promotional code. Make it a deposit worth $500 and up and you'll pick up a fat 345 percent deal when you use the NEWSLOTS5 bonus code.
Even if you aren't wanting to play slots, Grand Parker Casino still has some hot offers for you. There are three different reloads available at three different levels for table games players. Put up $21 or more with the NEWTABLES1 promo code to pick up a solid 118 percent reload offer. The NEWTABLES2 code is for players who want to deposit $100 or more since it will get you a 162 percent bonus that's a big larger. If you make it $200 and up with the NEWTABLES3 code, then you can get a 203 percent deal instead.
These offers can be used up to 30 times each until January 3. Make sure to space out your deposits in a way and plan things out so that you can get as much value as possible from these offers. Boost your bankroll with these reload offers and start off the New Year on the right foot as you check out the new 3D slot Orc Vs. Elf by Realtime Gaming.