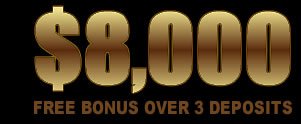 Welcome Bonus
Celebrate the New Year With Orc vs Elf Bonuses
Sun. Jan. 05, 2014
It's official: 2014 is here. With this new year has come a new game in Orc vs. Elf at Grand Parker Casino. There are chances for you to enjoy bonuses for this new title this weekend and on into next week thanks to some special offers. Deposit $125 or more with the NEWYEAR280 code, and you'll get a sweet 280 percent match bonus for playing Orc vs. Elf and any of the other slots available at Grand Parker Casino. Make it $250 and up with the NEWYEAR320 code, and that gets bumped up to the 320 percent mark. Both of these codes can be used once each day, so use them on as many days as you can to maximize your value.
If you don't want to put up quite that much money on a single deposit, then Grand Parker Casino has you covered with a number of other special offers. Put up $21 or more with the NEWSLOTS1 promo code to pick up a solid 191 percent reload. That bonus is 249 percent if you use the NEWSLOTS2 code with deposits of $100 and up, or make that $200 or higher with the NEWSLOTS3 code to get 306 percent. A bonus worth 323 percent is yours with a minimum deposit of $350 made with the NEWSLOTS4 promotional code, but high rollers will love the NEWSLOTS5 promo code because it gets them a larger 345 percent bonus with a deposit of $500 or more.
Table game players can get some of the promotional value as well with three different codes designed for three different stakes. Small stakes players get 118 percent with the NEWTABLES1 code when they deposit $21 or more. If you make it $100 and up, you'll get 162 percent with the NEWTABLES2 promo code, and NEWTABLES3 gets you 203 percent with deposits of $200 and higher.
All of these offers are valid until January 10. You can use each of the NEWSLOTS and NEWTABLES bonus codes up to 30 times each, and that basically means that you can use them as many times as you want. It's a great time to boost your bankroll and get ready for 2014 the right way with Grand Parker Casino's excellent selection of top-notch reload offers and other specials.