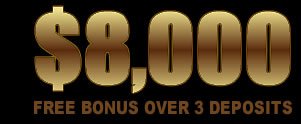 Welcome Bonus
Chain Together Connected Winter Deals This Week
Sun. Dec. 15, 2013
At Grand Parker Casino this weekend and on into next week, you'll be able to chain together certain deals to get big additions to your bankroll. To start things off, use the SAT300 or SUN300 code for Saturday or Sunday to get a 300 percent slots match offer when you deposit at least $150. Once you get that offer, deposit using SAT400 or SUN400 to get your chained offer worth 400 percent for slots. You'll need to deposit a minimum of $250 with this second set of codes, and it gives you an opportunity to chain together some great deals at better rates than usual. You can only use each of these codes once.
Grand Parker isn't playing around with these deals, and it's clear by seeing how much value they actually give you. Table games players can deposit a minimum of $21 to pick up a sweet 125 percent reload bonus with the SNOWY1 promotional code. If you want to deposit a bit more, you can get rewarded with a 161 percent match when you use the SNOWY2 code in conjunction with deposits of $100 and up. Double up to a deposit worth at least $200 to get 202 percent with SNOWY3 for playing your favorite table games.
Five other codes for slots are also available in case you don't want to use the chained offers above. Put up $21 or more with FROSTY1 to get 191 percent, or make it 249 percent with FROSTY2 on deposits of $100 or more. Deposit at least $200 to get 301 percent with the FROSTY3 code, or deposit a minimum of $300 to get a 329 percent reload with the FROSTY4 promo code. The high roller code FROSTY5 will get you a massive 351 percent with deposits of at least $500, so that's a good deal for people who want to drop a large amount of funds into their bankrolls in one shot.
The winter promotions just keep on coming at Grand Parker Casino, and this collection of deals are available until December 20. This does not apply to the SAT300, SUN300, SAT400 and SUN400 codes which have to be claimed on Saturday or Sunday under particular conditions as outlined above. Use these deals to maximize your bankroll and shoot for some big jackpots over the holidays.