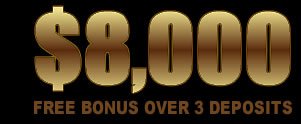 Welcome Bonus
Chocolate Box Specials Before Valentine's Day
Sat. Feb. 08, 2014
Valentine's Day is coming up next week, and Grand Parker Casino has just what you need to give your bankroll a loving bit of support. There's a special deal available this weekend and leading up to Valentine's Day next week that's available three times daily, and that coupon code is CHOC300. This code will give you an amazing 300 percent slots reload bonus, and all you have to do to qualify is deposit a minimum of $150. This is the featured promotion for this week because it combines such a high percentages match with such a low minimum deposit.
Slots fans don't have to put in that much to get a good deal this weekend, however. For example, you can deposit as little as $21 to get a 197 percent match with the MILKY197 code. The milky chocolate goodness is coming this week for your bankroll with the MILKY235 code which will get you an impressive 235 percent match when you deposit a minimum of $50. Deposit $100 and up to get 252 percent with the MILKY252 promo code, or use the MILKY325 promotional code to get a sweet 325 percent match when you deposit at least $250. Players who deposit $500 or more with MILKY355 will be able to pick up an additional 355 percent added to their deposit.
If your sweetheart is one of the many table games that Grand Parker Casino has available, then you aren't going to be let down this weekend. Deposit at least $21 with the DEAL1 promo code, and you'll be given a 130 percent match to your deposit. You can get a larger 176 percent match with the DEAL2 promo code on deposits of $100 or higher. Alternatively, you can add some real depth to your bankroll with the DEAL3 code since it will get you an awesome 200 percent match on deposits worth a minimum of $200.
Grand Parker Casino is going to be celebrating Valentine's Day a bit early with these awesome deals this weekend and all through next week. Each of the DEAL and MILKY offers can be used 30 times during the promotional period, and all of these deals expire on Valentine's Day on Friday, February 14. Cash in on these hot offers before Valentine's Day gets here to max out your bankroll.