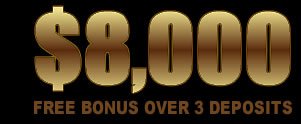 Welcome Bonus
Daily Cashback and Deposit Bonuses This Weekend
Sat. Aug 10, 2013
Grand Parker Casino is really giving you something to get excited about this weekend. they're offering you a hot cashback reward every single day of this promotional period on top of a wide range of excellent bonuses. This promotion is called Retro Rewards, and they're going to give you 100 percent cashback after your third deposit on your largest deposit of the day when you use the following bonus codes. The more you deposit, the more rewards you get, so make sure to plan out how you use these promotions over the next week.
Table games players have three hot bonus offers to choose from, and they'll need to pick the right offer based on how much they plan on depositing. For deposits of less than $100, use the TRUMP1 code. This will give you a 122 percent match. If you're depositing between $100 and $199, then get a 165 percent offer with the TRUMP2 code. The TRUMP3 code is good for players who are depositing $200 or more, and this will get you a 206 percent match bonus.
Slots players have a little bit more variety when it comes to this week's offers. RETRO1 gets you 193 percent on deposits of $99 and under, while 250 percent can be yours with the RETRO2 code on deposits between $100 and $199. Make it at least $200, and you'll get 303 percent with RETRO3, or you can use RETRO4 to get 323 percent when depositing $300 or more. The biggest bonus offer of the week is RETRO5 which gives you 341 percent on deposits of at least $450.
All of these codes have a 30x wagering requirement on the sum of the bonus and the deposit. You can get the cashback offer once per day for up to $500. You'll have to make three deposits in a single day using this week's codes to get this reward, and you'll need to message support to have the free chip added to your account. These offers last until midnight on August 16.