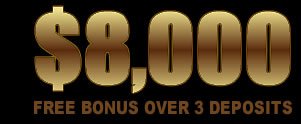 Welcome Bonus
Enjoy End-of-August Rewards and Bonuses
Fri. Aug 30, 2013
As the month of August winds down, things are heating up at Grand Parker Casino. Following the recent release of the Regal Riches video slot, players can get free turns with two hot offers. Deposit $100 or more with the REGAL275 bonus code, and you'll get 15 free spins on this game on top of a 275 percent bonus. If you want to add even more to your bankroll, then deposit $250 and up with the REGAL325 bonus code. With this second offer, you'll pick up 25 free spins instead combined with a sweet 325 percent offer. Each of these codes are available once per day for this weekend and next week. On top of that, you can get 100 percent cashback on your losses with either of these codes. All you have to do is email support.
Got an itch for slots? Deposit $21 or more with the ROYAL1 bonus code, and that itch will definitely get scratched with a 190 percent offer. Pump it up with a deposit of at least $100 while you use the ROYAL2 code to make that a 245 percent bonus. Depositing $200 or more with ROYAL3 will get you 305 percent added on, but making it at least $350 with ROYAL4 will give you a solid 333 percent bonus. The percentages flaten off a bit with the ROYAL5 promotional code which will give you 350 percent for depositing $500 or more this week.
Table games players have three hot offers to choose from. Any deposit can benefit from using the MONARCH1 bonus code which gets you a 124 percent bonus. The bonus becomes 163 percent with the MONARCH2 code if you deposit $100 or more, and if you double it to at least $200, then you'll get the maximum table games offer of 204 percent when you use the MONARCH3 promotional code.
All of the ROYAL and MONARCH codes can be used 30 times each while the REGAL codes are only available once daily. You can get the cashback offer once per day. The slots bonus offers are good for slots, keno, scratch cards and bonus bingo. The table games bonuses can be used with blackjack, video poker and perfect pairs. These offers are available until midnight on Friday, September 6.