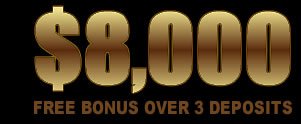 Welcome Bonus
Free Spins and August Bonus Offers
Sat. Aug 03, 2013
It's time for some free spins at Grand Parker Casino. Deposit at least $125 with the FUNKY1 bonus code this week, and you'll get an awesome combination of free spins with a deposit bonus. First off, you'll get 10 free spins on the popular Builder Beaver video slot. On top of that, you'll pick up a sweet 280 percent match bonus for playing slots. If you want to deposit $250 or more with the FUNKY2 bonus code, then you'll get an awesome 20 free spins for the T-Rex video slot, and you'll get 320 percent added onto your bonus for playing slots. These are two great deals for slots fans, but you can only use them once each day.
There are some other deals and offers available for slots players as well. Deposit $21 or more, and you'll be able to get 191 percent when you use the FRESH1 bonus code. The FRESH2 code bumps that bonus up to 249 percent on deposits of $100 and up, and you can double that to at least $200 if you want 306 percent with the FRESH3 promotional code. FRESH4 gets you 323 percent when you deposit $350 and up, and deposits of at least $500 with the FRESH5 code get 345 percent added on.
Table games players aren't being left out this week. You'll be able to get 118 percent with the CARDDEAL1 promotional code on any deposit that you make this week. Players who make a deposit of $100 and up will be able to use the CARDDEAL2 code to get a 162 percent bonus instead. The best code at Grand Parker Casino this week is CARDDEAL3 which gets you a 203 percent bonus when you deposit $200 or more. All of these codes can be used 30 times each except for the FUNKY codes which can only be used once each day.
On the slots bonuses, you can play slot games, bonus bingo, keno or scratch card games. For the table games bonuses, you can play anything you want besides bingo, casino poker, sic bo, pai gow poker, craps, roulette and Baccarat. These offers are available until August 9, so make sure that you plan out your deposits so that you can take advantage and boost your bankroll.