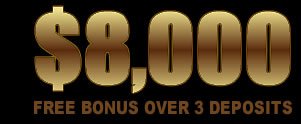 Welcome Bonus
Get the Best Odds With Free Spins, Cashback and Bonuses
Sun. Jan. 12, 2014
This weekend at Grand Parker Casino, you're going to get a whole slew of special promotions to take advantage of. T-Rex is the favorite video slot this week, and there's a special promo code FAVORITE300 that will get you 10 free spins and a 380 percent slots bonus when you deposit at least $150. You can use this code twice during the promotional period, and it's a great way to add one big heap of value to your bankroll at one time. They are also running their cashback reward offer this week where you can get 100 percent cashback on your third deposit on any calendar day.
Slots players get some pretty good deals this week. Deposit a minimum of $21 to qualify for a 195 percent offer when you use the BEST195 code. The BEST253 code is good for a larger 253 percent reload when you deposit $100 or more, or you can make that at least $200 to get 312 percent with the BEST312 promo code. The BEST333 promotional code paired with a deposit of at least $350 gets you a large 333 percent reload bonus, but the biggest offer is for deposits of $500 and up that use the BEST355 code to get 355 percent.
If you're a table games player, then you'll also have some hot deals to look forward to no matter what stakes you play. Get in a deposit of $21 and up with the ODDS122 code to get a 122 percent match on your deposit. Make it $100 and up with ODDS168 to get 168 percent instead. You can also put up a deposit of $200 and higher to get a 213 percent reload when you use the ODDS213 promo code.
All of these offers expire at midnight on Friday, January 17. That means that you have this weekend and all of next week to get in your deposits to take advantage of these hot deals. All of these bonus codes have a 30x wagering requirement that you'll need to meet on the appropriate games before you'll be able to request a withdrawal, and the cashback offers is available for up to $500 per reward for slots or table games. If you prefer roulette, then you can get up to $100 cashback instead.