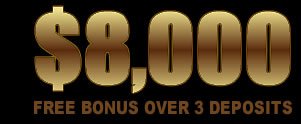 Welcome Bonus
Get Frosty Free Spins, Holiday Cashback and More
Sun. Dec. 22, 2013
Grand Parker Casino has just what you need to beat the cold weather that comes along with Christmas and the holiday season. If you use the SNOW275 code, you'll get a 275 percent slots bonus along with 10 free spins on the popular Crystal Waters video slot. This code can be used once daily. Also, you can get a 100 percent cashback reward on your third deposit each day worth up to $500. This compounds with the other deals to give you even more value as 2013 comes to an end.
The weather is cold, and there's a good chance that a lot of people will see a white Christmas this year. To take advantage of these circumstances, Grand Parker has some snowy table game bonus offers for you. Use the SNOWY1 code with any deposit that meets the $21 minimum to get a 125 percent match on your deposit. Alternatively, you can crank it up to at least $100 with the SNOWY2 code to pick up a 161 percent reload. If you want to make a deposit of $200 or more, then you can also get a 202 percent deal with the SNOWY3 promo code.
Slots players aren't being left out with some special frosty offers. Deposit with the FROSTY1 code and get 191 percent no matter the size. Deposits worth at least $100 get 249 percent with FROSTY2, and you can also pick up 301 percent with the FROSTY3 code if you make it at least $200. Make it $300 with the FROSTY4 code to pick up a sweet 329 percent match, or put up a minimum of $500 with the FROSTY5 code to get 351 percent instead. These deals are some of the best slots codes that you'll find before the end of the year.
At Grand Parker Casino, they want to make sure that they have some of the best offers that players can find during the holiday season. These deals last through December 27, so you'll have this weekend and all of next week to take advantage. Make sure that you don't forget about the cashback rewards and that you use the most favorable bonus codes available whenever you make your deposits. Overall, these deals give you a shot at getting Christmas gifts all week when you play with this awesome online casino.