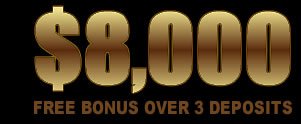 Welcome Bonus
Get Nutty Deals for Your Sweetheart and Your Bankroll
Sun. Feb. 16, 2014
Valentine's Day is happening this weekend, and if it's looking like you're going to be spending some money on that, then you'll love what Grand Parker Casino has available for you. You can get back some of that lost value with the featured promotional code this weekend: CHOC300. This code will give you a very impressive 300 percent match for slots added on to any deposit that you make as long as it's $150 or more. This code can only be used up to three times each day because it gives away such an incredible amount of value.
Milk chocolate is the most popular gift for Valentine's Day after flowers, and there are five deals available that play on this gift. Deposits worth at least $21 can use the MILKY197 code for a 197 percent reload bonus for slots. Another bonus worth 235 percent can be gained with the MILKY235 promo code as long as you deposit a minimum of $50. Players who deposit $100 or more can get 252 percent with the MILKY252 promotional code, or you can use the MILKY325 coupon code for a 325 percent bonus on deposits of $250 and up. Finally, players who deposit at the $500 level or higher can get 355 percent when they use the MILKY355 code.
Table games players tend to prefer strategy over chance, and they'll probably have Valentine's Day that have been very carefully planned out so that there's no chance of failure. That's exactly what kind of plan you can have for your bankroll with the three table games codes that are available this weekend. Deposit $21 or more with DEAL1 to get a 130 percent offer added to your account. Alternatively, you can use DEAL2 for a larger 176 percent match, but it requires a $100 deposit. Double that to $200 or more and get a flat 200 percent reload for table games with the DEAL3 promo code.
Grand Parker Casino is offering up nine different bonus codes for players this weekend and on into next week until February 21. This is a long celebration for one of the biggest holidays of the year, and you'll have plenty of opportunity to beef up your bankroll with sweet deals the entire time. Just remember that the featured code can only be used three times each day, but the others can be used up to 30 times each during the promotional period.