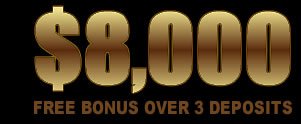 Welcome Bonus
Get the Best Odds Available This Weekend
Mon. Jan. 20, 2014
Casino players are always looking for the best odds that they can find in the games that they love to play, and Grand Parker Casino has just what you need to maximize your chances of winning this weekend with plenty of hot promotions. For example, you can get 100 percent cashback on your third deposit of any calendar day. On top of that, there's a featured slots code that will get you a 300 percent match along with 10 free spins for the T-Rex video slot as long as you deposit at least $150, and that code is FAVORITE300. This code can only be redeemed twice because it's such a good deal.
That's not all that's available if you're looking to get in on the action with some slots. Deposit any amount to get a 195 percent match with the BEST195 code, or boost your deposit of $100 or more by 253 percent when you use the BEST253 promo code. The BEST312 bonus coupon will get you a 312 percent reload on deposits of $200 or higher, but if you make it at least $300, then you can use BEST333 to get 333 percent. The largest slots code available this weekend is BEST355, and it requires a minimum deposit of $500 to get a 355 percent match.
The odds are also in the favor of players who like table games because there are three hot codes available for players at different stakes. Deposits of $21 and up can get a fresh 122 percent reload with the ODDS122 promotional code. Players who deposit at least $100 will get 168 percent with the ODDS168 code, or you can cash in on the ODDS213 bonus code to get a 213 percent match on deposits of $200 or more.
These are some pretty favorable options for Grand Parker Casino, and they will all help you to maximize your chances of winning. These offers will expire on January 24, so you have this weekend and a few days into next week to cash in. The cashback reward is available for up to $500 unless you play roulette. The roulette cashback maximum is $100. Each of the BEST and ODDS promo codes can be used up to 30 times each, so that basically means you can use them as many times as you want.