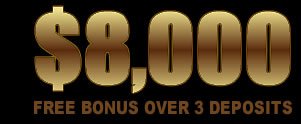 Welcome Bonus
Hit the Money Maze For Extra Cash
Sun. Mar. 02, 2014
March is here and you may be amazed at the Money Maze promotion where there is a chance for HUGE winnings at GrandParker Casino. No matter where you turn in the Money Maze you can win big. There is the 275% on All Slots bonus where you can also get 15 or more free spins playing Aladdin's Wishes. To got for this special for the week deposit $100 or more with the code AMAZING and this is valid twice a day.
You can also get 100% cashback on your 3rd deposit of the day and this is good up to any amount! Not only are these specials happing this week, but also special slots and table game deals.
If you like slots than GrandParker has you covered with the great offers for the week. Depositing $21 an up with the coupon MAZE1, $100 and up using MAZE2, and $200 and up using MAZE3 will net you a percentage of 191%, 249%, and 301% respectively. The more you deposit the more you can win, as one of $300+ will get you 329% with the code MAZE4 and one of $500+ will get you a whopping 351% with MAZE5. These offers can be played on any of the progressive jackpots which currently total over $4,000,000.00 and are ready to name America's next newest millionaire.
Don't worry table game players are not left out in the cold with some sweet deals for the week. Deposit $21 and up with the JACKS1 coupon, $100 and up using JACKS2, and $200 and up using JACKS3 will allow you to receive 125%, 161%, and 202%, yes 202%, respectively.
The offers for the week are redeemable 30x each. The Amazing offer is twice per day on all slots, cashback on 3rd daily deposit for a free chip for slots and table games up to $500 and $100 max for roulette. Don't wait get these AMAZING deals today to pad your bankroll for the beginning of the month.