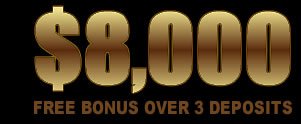 Welcome Bonus
Weekly Winners Take Home Cash and Kindle Fire
Mon. May 27, 2013
People of all different walks of life from several different parts of the world play at Grand Parker Casino on a regular basis. This means that they make a lot of people winners each and every week who have basically nothing in common except a love for online casino games. With a wide range of games available at all different stakes, anyone who plays at the USA online casino can become a big winner. Here are some of the notable winners from this past week.
A player by the name of Lucie H. won a Kindle Touch from Amazon during the casino's weekly raffle. Lucie's prize is worth about $100, but she won it with absolutely no risk. This weekly raffle is one of the ways that the casino gives back to the players instead of just offering them great promotions and bonuses.
Rodney D. had the right cards at the right time with his $1,860 win this week. Rodney's payout was won at Deuces Wild Video Poker, a style of video poker that is known for producing big winners. This is the most popular form of video poker that includes wild cards, and so it's not surprising that Rodney was able to pull out a nice four-figure win.
Video slots players were happy to see Richard E. hit a lucky set of combinations to pull out his $1,340 win. Richard won this prize on the Crazy Vegas slot. Crazy Vegas is 20-payline video slot that features a progressive jackpot and a generous free spins bonus round.
Tri-Card Poker is a game that you don't hear much about because it's not as popular as video slots, blackjack or other games like that. However, that didn't stop Wayne C. from picking up a sweet $800 payout playing the game. Tri-Card Poker is a table poker game that makes you an active participant in what's going on.
Finally, a player by the name of Sheryl P. hit the perfect spin to pick up a prize of $275 while playing European roulette. The European tables are preferred to the American style because of the better payout percentages, and Sheryl definitely made the right choice by playing what she did.
Grand Parker Casino offers hundreds of games with both a downloadable casino program and a Macromedia Flash-based platform that can run in your web browser.