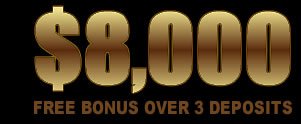 Welcome Bonus
The November Deals Just Keep on Coming
Sat. Nov. 09, 2013
There are a lot of special offers going on right now at Grand Parker Casino as the holiday season starts picking up some steam. On your third deposit in a calendar day, you can get a 100 percent cashback reward for all of this weekend and the following week. There are also two featured slots codes that can be used three times each during the promotional period. With NOVEMBER1, you get 235 percent with a deposit of at least $50. If you put up $100 or more with NOVEMBER2, then you'll pick up a 275 percent offer instead.
A handful of other slots offers are also available. Any deposit made with the KICK1 code will get a 191 percent addition, and you can make it 249 percent with KICK2 if your deposit is at least $100. Double up to $200 with KICK3 to get 306 percent, or make it $300 or higher to get a 323 percent bonus with the KICK4 code. The high roller code for this week is definitely KICK5 since it allows you to get a 345 percent offer on a deposit of $500 or higher.
Table games players are also going to get a handful of good deals to help kick off November the right way. With the START1 promotional code, you'll be able to get a 118 percent match offer added onto your deposit for any deposit that you make that is $21 or higher. Use the START2 code if you want to deposit more since deposits of at least $100 that use this code are able to get a 162 percent addition to their deposit. Make it $200 or more to get a sweet 203 percent reload with the START3 promo code. These three codes give you a chance to bump up your bankroll and maximize your chances of winning.
The KICK and START codes can be used 30 times each, and the NOVEMBER codes can be used three times each daily. All of these offers have 30x wagering requirements. For the NOVEMBER and KICK codes, you'll have to stick to European slot poker, bonus bingo, keno, scratch card and slots. With the START codes, you'll be able to play any games other than Baccarat, craps, roulette, casino poker, bingo, sic bo and pai gow poker. Bets on video poker and blackjack will clear the requirement at 25 percent of the normal rate. These offers are valid until November 15.