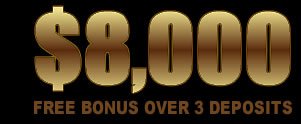 Welcome Bonus
Out of This World Deals Worth Up to 400 Percent
Sun. Feb. 02, 2014
The month of February has crept up on us, and players from all over are looking to Grand Parker Casino for some awesome deals to start off the month the right way. If you want a real out of this world promo, then check out the GALAXY300 code. You can use this coupon code up to three times each day, and it gives you a 300 percent match for playing any of the slots that you want. You only have to make a deposit of $150 or more to qualify for this promotion, so cash in now.
There are also special Milky Way promotions for players who want to deposit different amounts for slots. Use the MILKY197 code to get a 197 percent match on any deposit worth a minimum of $21. You can also get a 235 percent deal on deposits of $50 and up when you use the MILKY235 promo code, or you can opt for the MILKY252 code for a 252 percent match when you deposit a minimum of $100. Another way to go is to drop $250 or more with the MILKY325 promotional code to get a 325 percent reload, or you can double up with a deposit of $500 and higher to get a larger 355 percent match with MILKY355. High rollers will want to look at the MILKY400 code since it will get you a 400 percent slots bonus when you deposit at least $800.
Table games players can also cash in on these Milky Way special offers. Deposit a minimum of $21 with the WAY118 coupon code to be given a 118 percent deal. You can get a better reload worth 162 percent if you deposit $100 or more with the WAY162 promo code, or you can go with WAY203 and a deposit of $200 and up to get a sweet 203 percent match.
Grand Parker has these offers available through February 7, so you have plenty of time to cash in on them. Each of the MILKY and WAY codes can be used up to 30 times each during the promotional period, but the GALAXY300 code can only be used up to three times daily. Enjoy your favorite games and maximize your chances of winning with these special offers.