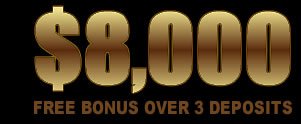 Welcome Bonus
Silent Nights Come Alive With Special Offers and Promotions This Week
Mon. Dec. 09, 2013
Twice each night during this weekend and the upcoming week, Grand Parker Casino is going to give you a chance to get some major value with a set of special offers that aren't available during the day. Use the GPNIGHTS promotional code between midnight and 4 am during this week, and you'll be able to get a fat 300 percent slots bonus when you deposit a minimum of $150. Use it twice in one night, and you'll also be able to claim a 100 percent cashback reward on your second deposit. This combination promotion gives you an absurd amount of value.
Five other slots codes are available during all times of day or night during the promotional period. Get in a deposit worth at least $21 with the GIFTS1 code to pick up a 189 percent offer. You can make it 250 percent with the GIFTS2 code if you deposit $100 or more, and deposits of $250 and up can use the GIFTS3 promo code to earn a 313 percent addition to their deposit. A bigger deposit of $350 or more gets 333 percent with GIFTS4, and GIFTS5 will get you an enormous 355 percent deal with deposits starting at $500.
Slots players aren't the only ones getting some great value this week. Put up $21 or more with the FLUSH1 code and you'll be given a sweet offer worth 120 percent of the size of your deposit. Get in a larger deposit of $100 or higher, and you'll get a 160 percent deal instead when you use the FLUSH2 promo code. The FLUSH3 code allows you to double that to $200 or more to pick up an even 200 percent reload bonus.
At Grand Parker Casino, it's time for spreading the holiday cheer, and they're doing it with lots of special offers. You can get 100 percent cashback on your second deposit during the night, or you can get reloads worth up to 355 percent with this week's deals. All of these offers are available until December 13, so you have a solid week to take advantage of these offers. Get in your deposits before these offers expire to make sure that your bankroll reaps the rewards of the holiday deals that Grand Parker Casino is offering.