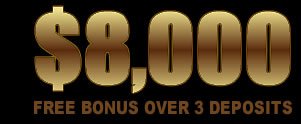 Welcome Bonus
Spooky Bonuses Come Just in Time for Halloween
Sat. Oct. 19, 2013
Grand Parker Casino really ramps up their promotions as you get closer to the holiday season, and with Halloween just around the corner, it's obvious that things are going to get crazy soon. What's awesome about this is that you get to take advantage by beefing up your bankroll with some of the cool ofers that they have going on. This week, you can start off your day by getting an extra $50 each day in cashback rewards. Whenever you deposit $200 or more in a single day, then you can send off an email to support to pick up a reward worth $50. You can redeem this once per day during the promotional period.
Here are this week's slots codes. If you are a low stakes player, then you'll be glad to know that you can use the SPOOKY1 promotional code to get a 193 percent bonus on any deposit no matter the size. Put up at least $100, and you can use the HALLOWEEN code twice daily to get a 285 percent offer, or you can use SPOOKY2 to get 251 percent. On deposits of at least $250, you'll be able to pick up 314 percent by using the SPOOKY3 promo code, and the SPOOKY4 code is good for a 337 percent bonus on deposits of $375 and higher. The high roller slot code SPOOKY5 will allow you to get a massive 355 percent reload added to your account on all deposits that hit the $500 mark or higher.
Grand Parker Casino is anticipating a lot of players who like table games over the next week, and that's why they have three awesome table games codes available as well. Put in FULLHOUSE1 when you make a deposit of $21 or more, and you'll get a 123 percent offer. You'll also be able to get 170 percent with the FULLHOUSE2 code on deposits of $100 and higher, and deposits of at least $250 will get 210 percent added on when the FULLHOUSE promotional code is used.
The deals are coming in with ghost-like quickness, and these week's offers are available until October 25. You can basically use the FULLHOUSE and SPOOKY codes as often as you want since they can be used up to 100 times during the week. The cashback reward will be given as a free chip worth $50.