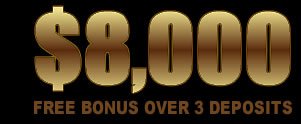 Welcome Bonus
All the super heros have nothing on you if you take advantage of the killer promos available this week at Grand Parker Casino
Sat. Mar. 29, 2014
While you cannot get real super powers you can take advantage of super powers for slots and table games this week at Grand Parker Casino. Not only that, but there is a super cash back offer that is more than impressive to say the least. On top of that if you are a VIP at the casino you will really feel the power with the great offers available to you until the 3rd of April.
If slots is your game of choice then get ready for some whopping offers, as you can get up to 370% back on a deposit. The deals for slots are for low stakes players and high rollers alike, so if free cash is out there snatch it! Make a deposit of $21 using the bonus code 125SUPER and $50 or more using 170SUPER and you will get back 125% and 170% back respectively. Deposit $100 or more with coupon 250SUPER and get back 250%, $200 or more (300SUPER) and get back 300%, and $500 or more (370SUPER) and you will receive 370%.
Table game players can also feel the power this week and why not feel like a hero with all the free loot that you can get and it is all legit! Make a deposit of $50 or more using 1HERO and get 120%, $100 or more (2HERO) and get 140%, $200 or more (3HERO) and get 180%, and $500 or more (4HERO) and receive 230%.
As you can see the more money you deposit the more money you can get. Needless to say the bigger percentage you get back the more you have a chance to really become a hero and hit the big time. This weekly offer is available 30x each and the cash back bonus is for up to $500 for slots and up to $100 on table games. No kryptonite out there this week at Grand Parker, as it is simple to feel like and play like a real super hero with the free moolah available.