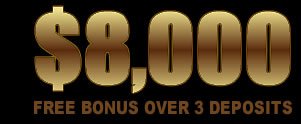 Welcome Bonus
Grand Parker Table Game Selection
Grand Parker Casino prides itself on offering a wide array of classic casino games to all of its members. One of the most popular Grand Parker table games is roulette, a game of chance that has been a staple at modern casinos for years. The game is played by placing a bet on a certain number or numbers on the roulette table, spinning the roulette wheel, and hoping that the roulette ball lands on your number. The casino offers American and European roulette, the latter of which offers slightly better odds.
Grand Parker Baccarat
Another popular game at Grand Casino is baccarat. This game might be familiar even to casino novices thanks to its prominence in Hollywood films, particularly the James Bond franchise. To play baccarat, individuals must guess whether their hand of cards or the dealer's hand of cards is closer to a value of nine, or whether the outcome will be a tie. Confused? Grand Parker Casino offers a preview option where players can try out a game for free to get the hang of it before betting.
Grand Parker Craps
Craps is another familiar casino game, also often featured as a prime gambling method in a variety of different films. This is a slightly more complex casino game, which allows players to make a variety of different bets and requires a bit more strategic planning than a game like roulette. However, since it is a game whose outcome relies largely on a dice roll, it too is still primarily a game of luck.
Grand Parker Blackjack
Blackjack is another of the most popular Grand Parker table games. In this card game, players are dealt two cards, and the aim is to come as close to a value of 21 as possible. A player can opt for a "hit," or another card, in order to come closer to 21, but if they go over that value, they automatically lose. Players can also stand with what they have. Like all games at Grand Casino, this one too can be played for free in preview mode so casino members can test it out before wagering.